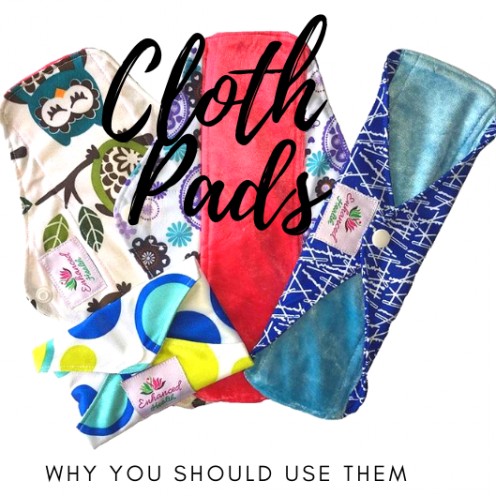 Grocery and drugstore aisles are bombarded with a plethora of pad selection. I mean, who doesn't enjoy shopping for, and spending, 9$ on a big square bag of synthetic material. But did you know that there is such a thing as a reusable menstrual pad? Sounds kind of gross when you think about it, but trust me, they are well worth the investment and then some.
So What is a Cloth Menstrual Pad
Cloth menstrual pads are cloth pads worn in your underwear to prevent the menstrual fluid (blood, clots, uterine lining, all that jazz) from leaking onto your clothes. Cloth pads are a type of reusable feminine hygiene product and are quite an amazing alternative to disposable sanitary napkins or menstrual cups. Cloth menstrual pads, like all menstrual pads, remove the risk of toxic shock syndrome that is associated with tampons.
Generally, cloth pads are made from multiple layers of absorbent fabrics, for example, cotton or hemp, and are worn during your period, after-birth bleeding, or any other situation where vaginal bleeding needs to be absorbed.
8 Reasons Why You Should Switch To Cloth Menstrual Pads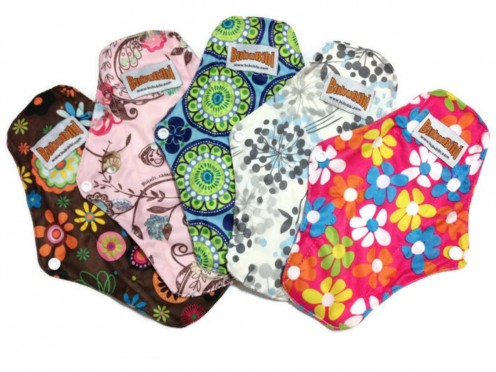 You don't have to go to the store or send your significant other
I suffer from menorrhagia (heavy menstrual bleeding) and it's gotten progressively worse since the birth of my youngest. So I absolutely had to always buy two big packs of Always Overnight with Wings, and it sucked. Though I did get quite a giggle when I would ask my husband to go, just to have him tell me the stories of the looks he got at checkout…buying my economy pack of pads.
With cloth pads, you don't have to go to a store to buy pads or tampons. There's no waiting in line, no looks, no judgmental stares, and no feminine hygiene product tax. The best part is you don't have to wait in traffic, or even waste gas driving to your local store.
Your Hoo-Haa Can Breathe
Disposable pads have a real bad habit of locking moisture against your skin, especially during your heavy flow days, when the absorbency of the pad is at its max. This creates its own issues from discomfort to odor and worse rashes.
Due to the materials used in cloth pads, they suck moisture away super fast… even on your heaviest day. When the initial flow hits, it's only a matter of seconds before the pad has absorbed and locked away the blood in-between its layers. So there is no moisture trapped against your skin and you can go about your day in comfort.
Cloth Menstrual Pads Can Hold 2-3 Times More Than Your Disposable
The fabrics used in cloth pads range from 100% natural fabrics to 100% synthetic fabrics. The most common fabrics used in cloth pads are terrycloth, cotton, silk, hemp and even Gore-Tex.
PUL (polyurethane laminate) is a synthetic material and is used as the liquid barrier of the pad (the outside of the pad) and it is not absorbent, it just helps keep the vaginal liquid from spilling out of the pads absorbent layers. Most cloth pads have 3-4 layers, and some even 6 layers, of bamboo, fleece, hemp fleece or cotton terry used as the absorbent layers.
So what makes them so absorbent?
Fabric absorbency is rated in GSM (grams per square meter) and it's a metric measurement of the fabric's weight. The higher the GSM, the more absorbent the fabric. Let's look at bamboo, the most widely used fabric in cloth menstrual pads.
Bamboo typically has a GSM of 340, and in the textile, the form retains many of its plant properties. Due to this, bamboo is highly absorbent and able to take up to three times its weight while wicking away moisture from the skin.
You Save Money
Disposable pads average 7$ per pack of 20. Sometimes, you can find them cheaper around 4$ for 20-24. It depends wholly on where you live to tell you the truth. But the average woman will buy a pack or packs (overnight, light flow) every other month, with those who suffer from heavy bleeding, potentially purchasing every month, throughout the lifetime of her period. So if you started your period at 12 (the average age) that's 7$ every other month for about 43 years (if you hit menopause at 50) or approximately 1900$ in just disposable pads. Don't mind me over here trying to math, I'm pretty bad at it. If you have to buy pads every month, well that number just doubled. It doesn't seem like a lot of money of 43 years, but life changes as does your period, and your period absorption situation.
So where's the savings?
On average, a pack of 10 cloth reusable menstrual pads at big online stores is 20$. Your local artisans, i.e Etsy, can range from 20-45$ for a pack of 10. If you choose to venture into making your own, you can make 30 cloth menstrual pads for about 50$.
With proper care and maintenance, cloth pads can last for years, yes YEARS. I have 17 of my own, all purchased online of course because I can't sew to save my life, and they've lasted me 2 years and are still going strong. They've even survived the 6 weeks of post-birth bleeding and aren't screaming at me yet.
They're Environmentally Friendly
This is pretty self-explanatory. With reusable cloth menstrual pads, less is going in the trash and less trash to the landfills. Plus they don't stink up your house because they have their own little cute wet bag to put your used pads in that zips up and is out of sight.
They Come in All Flow Absorbency's, Colors, And Sizes
It's kind of empowering to say you have something cute or beautiful between your legs. Well, maybe that's just how I think, but I enjoy being able to pull out a pad (folded and buttoned of course) and no one knows what it is. And if they do, I usually get asked where I bought such a cute design. All reusable cloth menstrual pads also come with really cute wet bags to put your used pad in as well. Cloth pads come in different sizes, as well as, different flow absorbance and even have pantyliners available. They also don't make any sound when you're changing them out, except for the unbutton and button, and even that isn't that loud. So you can completely obliterate the sound of a sticky pad being pulled off your underwear.
You Can Make Your Own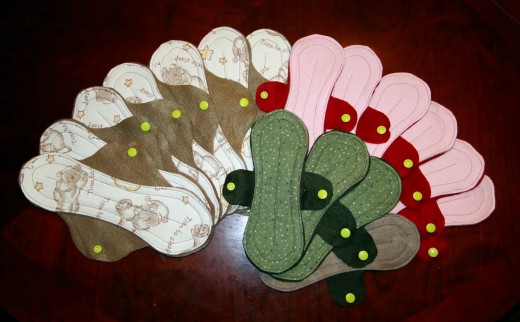 Making your own feminine hygiene products is pretty empowering. You have full control over your absorbency and your needs going this route. To include, you make them as needed by your body, which in my opinion, is pretty awesome. So how do you get started? What do you need? How long does it take? Is it hard?
How to start and what you'll need
To get started you're going to need fabric, buttons, and a sewing machine (if you don't already own one). Since cloth pads are made from a variety of absorbent fabrics you have a lot to choose from. I personally recommend charcoal bamboo, or any type of bamboo, as it's incredibly absorbent and wicks. But bamboo is expensive and you'll need about 2 yards to make about 12 pads. I recommend always have more than 7 cloth pads at a time so you aren't always washing when you run out.
You can find charcoal bamboo fleece for about $12.95 a yard and bamboo anywhere from $13 a yard to as much as $22 a yard online. Your local fabric store may have it cheaper if there are sales going on. You're also going to need PUL (the outside of the pad) and that varies in price as well, but the yardage is the same. Then all you need is a pattern, which you can find online at places like Etsy and Craftsy and voila, you can start making your own cloth menstrual pads.
They're Washable, They're Reusable
You don't throw these away. You run low and need more, you just presoak them (only if you're worried about staining) and throw them in the wash (by themselves of course) and that's it. If you take care of them, they will easily last you 10 years, or even longer.
How to Wash Cloth Pads
1. Presoak (Not necessary from my experience, but soaking in cold water helps prevent staining)
2. Wash on hot
3. Use natural laundry detergent. DO NOT use fabric softener (as it affects the absorbency)
4. Dry them in the dryer or line hang them
5. Either reuse them right away as needed or put them away till next month
From Someone Who Uses Them Religiously
In the 2 years I have been using cloth pads, I have not only saved myself from the holy hell I'm leaking moments, but I'm not embarrassed anymore. I had to buy a pack of pads every single month because I bleed so heavy and so irregularly and it sucked.
I hated sitting on the toilet in public places and listening to the sound of the pad being pulled from my underwear or having to always ask my husband if I'm leaking. I don't experience any of that anymore. No more midnight leaks, no more pant war victims, no more public embarrassment.
Though they are slightly bulkier than disposable pads (I think that's the only real con I can think of), my vagina is a lot happier and my bathroom doesn't look like a war zone anymore